Want professional help with your furniture removals?
It's no secret that moving house is a tough and stressful job, and one of the hardest parts of moving is often having to deal with your heavy, cumbersome and awkward furniture. Whether you live on your own, or even if you share your property with friends or family, moving furniture can be difficult, and can sometimes lead to injury. If you want to move your furniture the safe and the easy way then all you need to do is contact Man and a Van London.! Our company specialises in furniture removals in London, and whether you have antique armoires or just a few bookcases, we can help you by transporting them efficiently and safely! You can find out more about our furniture removals services by calling us today on 020 8396 6348!
If you don't take the proper steps when it comes to lifting, moving and carrying your furniture then you're not only risking damaging the item, but also hurting yourself in the process. It's easy for accidents to occur when dealing with moving furniture, especially if you're having to lift and manoeuvre your items up and down flights of stairs or through narrow corridors, and loading your furniture into your van in a safe manner can be just as tricky. If you want to avoid the hassle of moving your furniture and if you want to ensure that your pieces are in the best hands possible then it's our company that you need to call! We work with experienced and reliable teams who can and will make quick work of your furniture removals. Our knowledge and experience mean that we can handle any job that you might have for us, whether you have antiques or even if you live in a top-floor flat! For all of your furniture moving needs, you don't need to look any further than our company!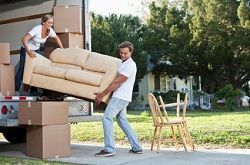 If you're worried about the cost of your removal company then our services are ideal for you. Our company, unlike lots of others in the area, can ensure that you get the competitive rates and cheap prices that you want to see, so you won't need to worry about the cost of your moving day. When you hire our moving teams you'll get exceptional value for money, with no hidden fees and no surprise costs! We know how expensive the moving process can be, which is exactly why we work to give you the best prices for our professional services. Get your free no-obligation price quote and find out more by getting in touch today!
If you're looking for a moving company that's reliable, affordable and that provides excellent relocation services, it's Man and a Van London. that you need to call. With the help of our experienced movers you won't need to worry about your furniture when it comes to moving day, as you can be sure it will be in the safest hands possible. There's no job too big for our dedicated movers, and with our low prices and flexible work hours we're the ideal choice for you. To find out more information and to hire us for your house relocation, simply pick up the phone and call us now on 020 8396 6348. Our teams are just waiting to hear from you, so get in touch now for the easiest London house removal you'll ever experience!